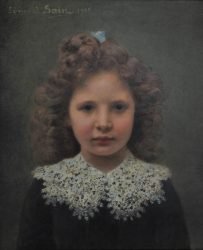 Quite delightful oil on canvas portrait of a young girl, perhaps no older than seven or eight years of age, painted by the French artist Édouard Alexandre Sain (1830-1910). Dressed in her Sunday best clothes…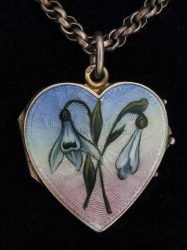 Heart-shaped silver locket by Meyle & Mayer made in Pforzheim, Germany circa 1900. Beautifully enamelled on the face with two snowdrops set against a background that is guilloche enamelled in shades of blue graduating through…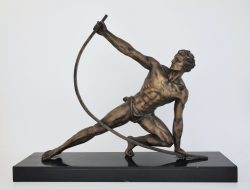 This iconic sculpture by Jean de Roncourt, which is arguably his most admired work, is more usually seen in spelter. However, a much smaller number were cast in bronze and this particular piece is a…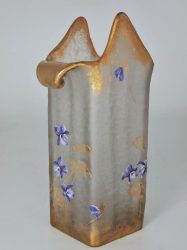 Square columnar glass vase from Legras MontJoye made at their Pantin glassworks around 1910. Primarily of clear glass, smooth on the inside and acid etched on the outer, giving a dappled and frosted appearance. Decorated…
'Un Coquelicot' by Godet
Item Description
Gold medal winning small bronze bust by Henri Godet from around 1890.   A really lovely sculpture of a curly-haired young lady emerging from a flower and smiling a little shyly.
Signed in the bronze which is also inscribed 'med. d'or'.  Mounted on a circular marble base with attached title plaque and with an overall height of just over 21 cm..
This piece is listed in volume three of the Berman set 'Bronzes, Sculptors & Founders' on page 609 where it is given the title of 'Blossoming'.
In fine condition with good all over yellowy bronze patination.  The marble has at some stage been further attached to a thin circular base plate, presumably to protect a polished wood surface.  We have not attempted to remove this.
Tell A Friend About ''Un Coquelicot' by Godet'